Interested in becoming part of the Campus Recreation team? We are UNC's largest student employer!
Be one of the 400 student employees hired each year. We hired for over 15 different positions within Aquatics, Sport Programs, Carolina Adventures, Fitness, Facilities Operations, and Marketing. Work in a team-driven environment to develop real-world experience, and the top 5 qualities of professional growth: Customer Service, Personal Responsibility, Teaching, Risk Management and Social Justice & Inclusion. We offer flexible scheduling, paid training, job promotions, and professional development opportunities.
Check out our Campus Recreation Job Descriptions Page for more information on our employment opportunities, and view our application timeline for the next hiring period!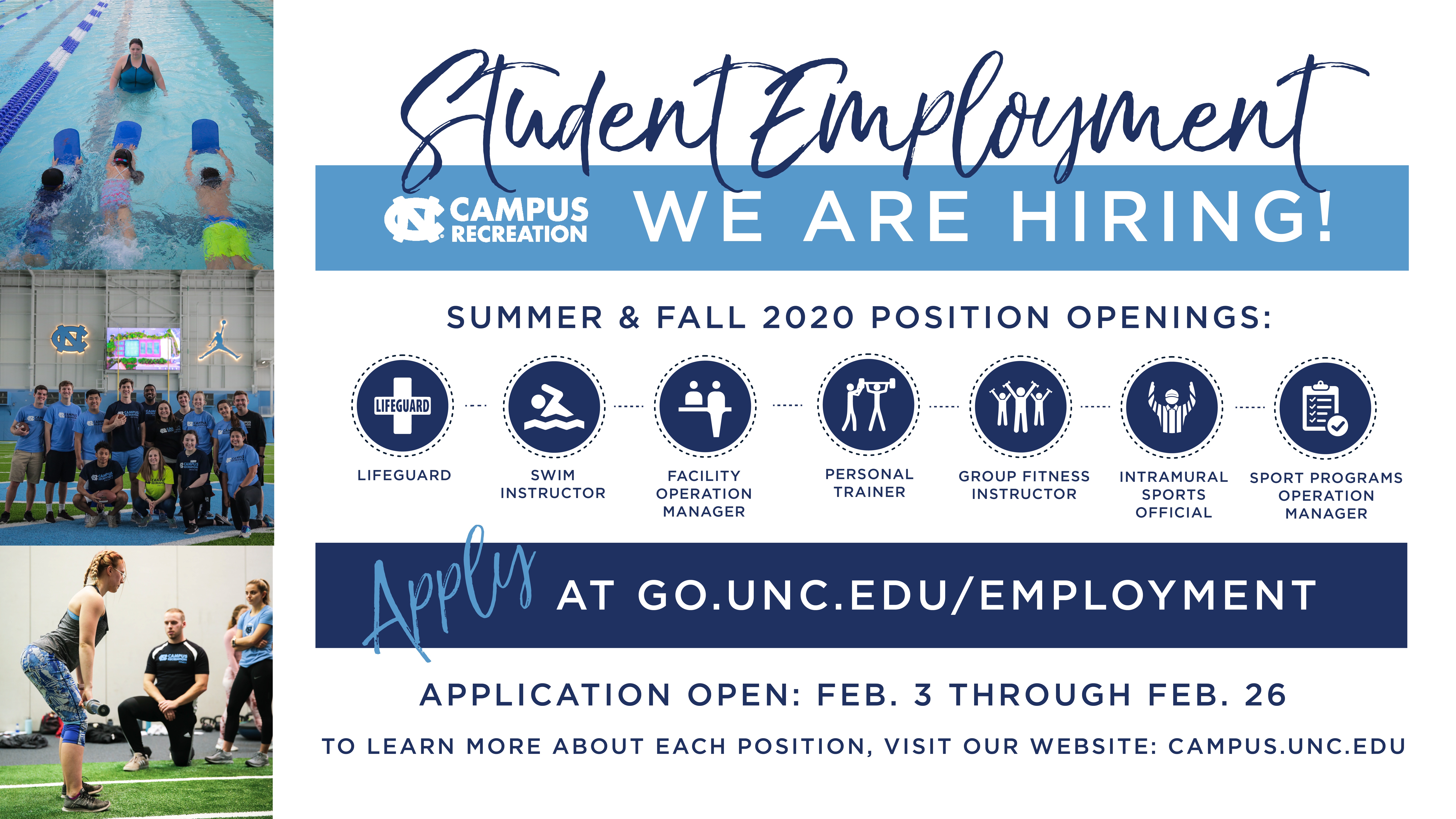 Position:
Current Availability:

Aquatics

Lifeguard

Open

Swim Instructor

Open

Carolina Adventures

Challenge Course Facilitator

None

Climbing Wall Instructor

None

Facilities Operations

Operations Ambassador

Open

Fitness

Group Exercise Instructor

Open

Personal Trainer

Open

Marketing

Marketing Assistant

None

Sport Programs

Intramural Sports Official

Open

Operations Manager

Open
2019-2020 Student Employment Application Timeline
Hiring For:
Application Open:
 
Spring 2020
CLOSED
Summer/Fall 2020
CLOSED
If you have questions that pertain to our hiring process or specific jobs, contact the designated person for the respective job on the Campus Recreation Job Descriptions.
Campus Rec is committed to providing safe, inclusive and accessible opportunities to all students and staff of the University. Reasonable adjustments will be made for those with disabilities who are interested in working for our department. Read more about our Commitment to Inclusion and do not hesitate to reach out to us if you have any questions!