ACL Collegiate Cornhole Tournament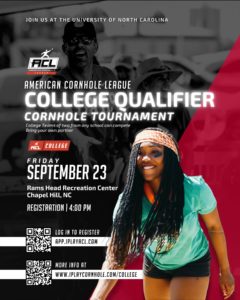 Interested in trying your skills in a collegiate cornhole tournament for a bid to go to nationals at Myrtle Beach, SC in December? Join the American Cornhole League (ACL) at Rams Head Rec Center on UNC's campus from 4:00pm – 8:00pm. Learn more at iplaycornhole.com/college and pre-register HERE.
The National College Cornhole Championship (NCCC) crowns the best collegiate players and teams from around the country. It provides scholarship money to students and the open format allows for any size college to participate. The ACL encourages colleges to develop cornhole groups whether they be social, intramural or club sport.
Who: Open to College Teams of Two from any school (bring your own partner)
What: ACL College Cornhole Championship Qualifier hosted at the University of North Carolina
When: Friday, September 23 at 4:00pm (pre- UNC vs. Notre Dame game on Saturday)
Where: Rams Head Recreation Center, University of North Carolina at Chapel Hill
Why: The winning team of the tournament will get a bid to the 2022 National College Cornhole Championship (NCCC)
How: FREE ENTRY for college students – Pre-register HERE by making an account with ACL and registering for the local event
**To be considered a College player, you must be enrolled at a 2 or 4 year college or university within your first 4 years of undergraduate study in good academic standing and NOT previously earned money at an ACL National or Conference event, earned money at any non-ACL sanctioned event per the ACL College policy. Players on the same College team MUST attend the same college or university. College students MUST bring college ID's to be eligible to compete.**
This event will roll into Rec After Dark at 8:00pm at Rams Head Recreation Center. Stay to try climbing or the flying squirrel for free!