Let's stay active together! Visit the Stay Active recreation portal to register for activities and make facility reservations. After reading our facility guidelines, view our operating hours to learn more. Not on campus? Check out our Stay Active at Home resources.
---
Facility Guidelines
These guidelines have been updated as of July 12, 2021 in accordance with the the University's Community Standards. Please review the information below. Additional policies are listed on the Stay Active registration page and posted around the facilities.
Make a reservation on Stay Active for lap swimming or workouts 

Reservations are required for lap swimming but not required for recreational swim
Reservations are recommended but no longer required for workouts at Rams Head or the SRC

Walk-ins will be accepted as long as we have not reached our capacity
Pre-registration is still the best option to guarantee a spot during a workout period

Reservations are not required for the climbing walls (walk-ins only)

Upon arrival present your valid UNC One Card (and confirmation of a reservation if applicable)
Be prepared to answer questions related to COVID-19 exposure and symptoms
Mask Policy
Indoor Facilities: Masks may be removed only while participating in recreational activity or programs.
Outdoor Facilities: Masks are not required at all outdoor recreation facilities.
Please note: Towel service, equipment rental (including locks, mats, bands, etc.) and water fountains are currently unavailable. Bottle refill stations are available. Please bring your own towel, water bottle, lock, and any other equipment if needed.
---
Available Facilities
Our current offerings include the facilities, programs, and services listed below. Facilities not listed are currently unavailable. Click for an interactive map of our facilities.
Indoor Facilities
Bowman Gray Memorial Pool

Rams Head Recreation Center

Student Recreation Center

Rams Head Climbing Wall

Fetzer Climbing Wall
Outdoor Facilities 
Hooker Fields

(lights will be turned on during scheduled programming only)
Ehringhaus Field/Shelton Stadium

Kessing Outdoor Pool

North Campus Recreation Complex

South Campus Recreation Complex

Outdoor Education Center

and Disc Golf Course
Locker Rooms
Rams Head Recreation Center: Locker room showers are available now. Please bring your own towel.
Fetzer Hall and

Woollen Gym

: Locker room showers are available now. Fetzer Hall can be accessed through the exterior entrances only. Please bring your own towel.
Access and Entrances
Please enter each facility through the main exterior entrance(s) as shown on the map below. Although connected, you cannot enter Fetzer through the SRC or the SRC through Fetzer. Be prepared to present your valid UNC One Card upon arrival.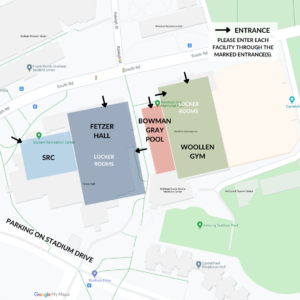 ---
Activities and Programs
Check out our events page for upcoming activities. Click the programs below to learn more about each service and offerings.
---
How To Participate
For your wellbeing, we expect everyone to be S-A-F-E:
S – Social / Physical Distancing: Remain at least 6 feet away from others at all times.
A – Access to Opportunities: When required, sign up in advance for facility or program access through the UNC Rec app or on Stay Active. Registration typically opens 48 hours before facility reservations and fitness classes. Other registrations vary.
F – Follow the Policies: Policies are posted in each facility and in the information included on your registration confirmation for facility and program access.
E – Engage with Caution: We encourage patrons to engage in physical activity with caution. This includes monitoring their own workout intensity, taking breaks as needed, and setting realistic goals for their return to exercising.
---
Members & Services
Facilities are open for students, faculty, and staff of the University with an active membership. Aquatics facilities are open to community members as well. Membership sales for University faculty and staff are available through the UNC One Card Office. Visit our membership page for details. 
Please note: Guest passes and memberships for children and spouses/partners of University students, faculty, and staff are currently unavailable.
---
Questions?
Review our operating hours and general facility policies and procedures. Feel free to visit our Main Office located in the SRC during business hours. You may also contact us at recevents@unc.edu or call 919-843-PLAY (7529).
---
Best Ways To Stay Informed
Please check our website regularly for updates and follow our social media pages on Facebook, Twitter or Instagram. To learn more about the University's plan, including testing information, please go to carolinatogether.unc.edu.