Functional Movement and Fitness Center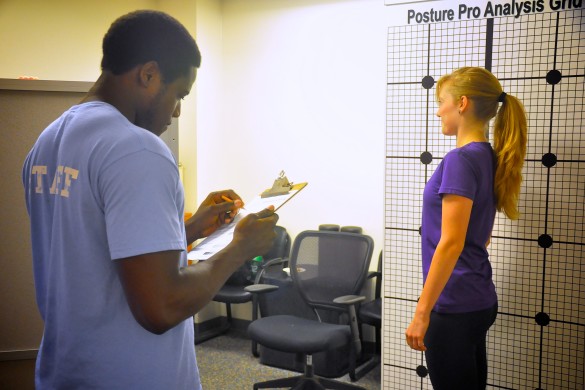 The Functional Movement and Fitness Center (FMFC), located in the Student Recreation Center (room 110) across from the front desk, offers comprehensive physical assessments to determine your current level of fitness. This information is useful if you are new to exercise, have questions or looking for ways to maximize your workouts.

Drop-in Fitness Services (free!)
Drop-in services are free to recreation members and are available when an appointment is not in session.
Blood pressure screening
Resting heart rate
Height/weight
Body Mass Index (BMI)
This is a simple calculation that takes an individual's weight in kilograms and divides it by their height in meters squared. This is not a measure of fat mass, but is rather a tool used to assess how much a person's weight departs from the "normal" range. This assessment does not account for muscle mass, however, and should be used as a general guideline.
Body composition
The purpose of this assessment is to determine the ratio of fat tissue and lean body mass when compared with body weight. This measurement is taken via a 3-site skinfold (that is gender specific) in order to measure the fat stores in the body that are subcutaneous (below the skin).
Heart rate training zone
Stretching/foam rolling techniques
Proper exercise selection & technique
Functional Movement Screening
The purpose of a movement screen is to analyze movement patterns and identify muscle weaknesses. The FMFC staff will provide participants with a guide to corrective exercises, helping to improve everyday functionality and performance. Students and recreation members are encouraged to get a FREE assessment at least once per semester.
Functional Movement Screening includes:
Static posture
Overhead squat
Single leg squat
Upper body pushing exercise
Upper body pulling exercise
Click here if you are interested in a full fitness assessment and personalized program.