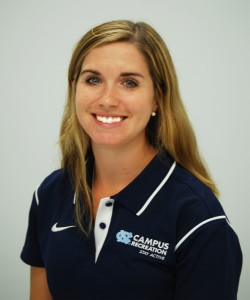 Meghan Fulton
Head Athletic Trainer for Sport Clubs
(919) 428-1057
mcwalsh@email.unc.edu
Meghan Fulton joined the UNC Sports Medicine and Campus Recreation staff in 2010 as the head athletic trainer for Sport Clubs. Her primary responsibility is delivery of sports medicine services to athletes participating in sport clubs, and she also serves as a liaison between Campus Health Services and Campus Recreation. UNC Campus Recreation has established themselves as a leader in Sports Medicine services provided to sport clubs. More information can be found here.
Fulton is a 2006 graduate of Northeastern University, where she earned her B.S. in Athletic Training. Following her undergraduate degree, Fulton earned her M.A. in Exercise and Sport Science with a specialization in Athletic Training in 2008 from the University of North Carolina at Chapel Hill. Fulton returned to UNC after spending two years at the University of Richmond.
Fulton enjoys fitness, yoga and attending Tar Heel athletic events. A native of Sandwich, MA, Fulton currently resides in Chapel Hill with her husband, Grant, and their 2 young children, Oliver and Everly.